Featured Trainer: Jeffrey Jackson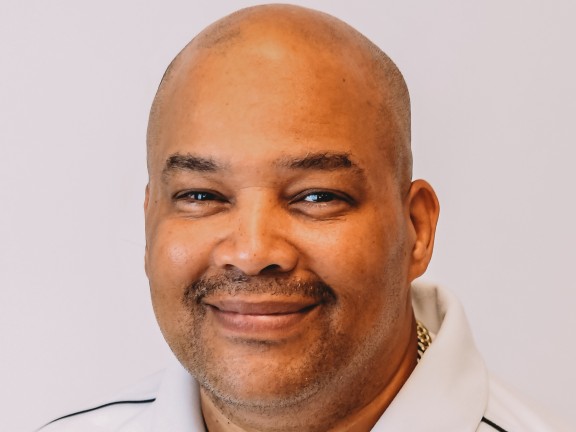 Meet Jeffrey Jackson, our July Featured Housing First University Trainer. Jeff is one of our Senior Team Leaders and Trainers at Pathways to Housing PA and Housing First University. 

Jeff: I joined Pathways to Housing PA in April 2017, as an Assistant Team Leader. After helping to fortify and build a strong base of Best Practices for Team 7, I was promoted to Team Leader and entrusted to do the same for Team 8. Then after getting Team 8 up and functioning at a high level I was chosen to build up the newest substance use disorder Team 9. I am now one of the Senior Team Leaders and one of the trainers for Housing First University specializing in OUD and Housing, using a Harm Reduction approach. I have over 20 years of Clinical and Supervisory experience in the Behavioral Health Field and I received my Master's of Arts, from Alvernia University in 2005, with a concentration in Counseling and Addiction Studies. Since 2008, I have been very passionate about finding respectable and affordable housing for individuals struggling with Substance Use Disorder & Mental Illness. I am currently in a Doctoral program specializing in Leadership and Organizational Management at Capella University with an expected completion date of December 16, 2022.
Question: What did you do prior to working at Pathways to Housing PA?
Jeff: Prior to my work at PTHPA, I served as the Clinical Supervisor and Intake Coordinator at Addiction Medicine & Health Advocates Inc. (AMHA), a Methadone Maintenance Treatment Program. I have made it a personal mission to help tackle the stigma of individuals on medication-assisted treatment (MAT), not being able to reside in recovery houses due to them being on MAT. I am passionate about fair affordable housing, ending homelessness, HIV & its cure, and advocating for Dignity & Respect for all human beings.
Q: What are your thoughts about being a trainer?
Jeff: I love doing trainings to educate others about Housing First and harm reduction. I decided to do trainings with Housing First University to help inform as many agencies and people as possible about the positive benefits of Housing First and harm reduction.
Q: Can you tell us a little bit about being a Team Leader?
Jeff: I am a firm believer that people don't leave jobs. They leave leaders. I try to be a Team Leader who is respectful to all staff but also one that helps the staff feel heard and embrace the mission of the organization.
Q: What made you decide to work at Pathways and what do you love about it?
Jeff: I chose Pathways because I started a nonprofit in 2008 (Dignity Recovery Corporation) trying to do some of the very things Pathways is doing now. I just didn't have the knowledge, experience, or funding to make it work. Being here at Pathways is very rewarding to my core beliefs that everyone deserves a stable place to live with respect and dignity. I really love the passion of the staff here at Pathways. I love that we have the ability to get people off the streets and into their own living space with the needed supports to maintain their housing.