Being a Part of Housing First Partners Conference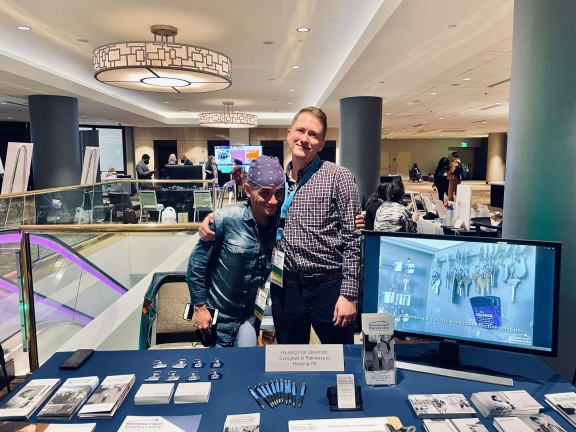 It's Monday morning, April 12, 2022. I've been ready for this day for a week now, after these last trying two years. It's 5:30 am and I'm heading to the airport for the Housing First Partners Conference in Seattle, Washington. I am there for the week.

The Housing First Partners Conference (HFPC) is co-presented by DESC (Downtown Emergency Service Center) and Pathways Housing First Institute. It was launched in 2012 as a biennial conference to further the conversation among practitioners, researchers, advocates, and people with lived experience about Housing First as a proven model for ending homelessness for those with chronic health conditions and long stints of street homelessness. Since then, Housing First has been implemented across many elements of the crisis response and homeless systems and is being successfully applied in diverse interventions and as an overall community approach to addressing homelessness. Housing First programs serve communities across the globe, with new adaptations to the model that effectively address the needs of diverse populations to end homelessness and build back their lives.

The conference was an overwhelming success, attracting nearly 1,100 attendees from 42 states and nine countries. I was invited to this opportunity about a month before it took place. Upon accepting the invitation, I was also invited to speak during the Opening Plenary, over a continental breakfast, and a great conversation of panelists with lived experience. Amongst a room of roughly 1,100 human beings from 42 states and nine countries, when asked about what choice meant to me in Housing First, I responded with, "Just walk alongside me while I fix myself."

I also spoke briefly during a workshop, We Take Care of Us: Queer/Trans Community In Housing First, facilitated by Housing First University, a program of Pathways to Housing PA. I mentioned that accessing services has always been a barrier for me before becoming a participant in the Pathways to Housing PA program because I identify as Transgender and at times I'd prefer a service coordinator like myself.

Housing First University also tabled at this conference where I sat for a bit several times after the opening plenary. The table offered resources about Pathways to Housing PA and Housing First University. There was a sign up sheet for future trainings from Housing First University, which filled up pretty quickly. Many great people had acknowledged me, some exchanging contact information with myself and Housing First University, and one service coordinator mentioning to me that I've changed the way they'll deal with their participants in their program.