Matching Gift and Volunteer Grant information provided by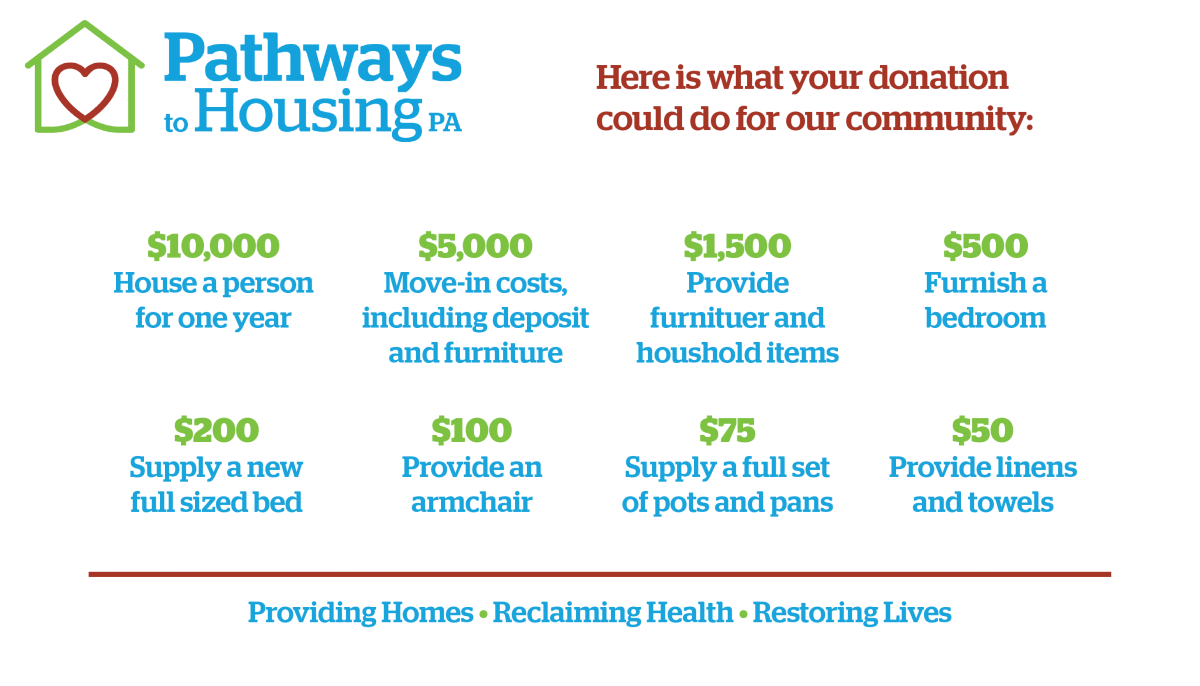 Donate By Mail

If you prefer to send a check, please mail it to: Pathways to Housing PA, ATTN: Development Department, 5201 Old York Road, Suite 108, Philadelphia, PA 19141

Honor a Friend or a Loved One

In lieu of gifts or flowers, or to honor the memory of someone special, donate to Pathways to Housing PA in your loved one's name.

Host a Fundraiser

Fundraisers of all sizes fuel the wrap around care we provide to our participants and enable us to continue to utilize our evidenced based Housing First model to help more people. Click here to learn more.

Workplace Giving

We are a member of the United Way of Greater Philadelphia and Southeastern New Jersey: #50113. If you're having a workplace giving event featuring local nonprofits, don't forget to invite us!

Donate Stock, Mutual Funds or Bonds

A gift of securities such as stocks, mutual funds, and bonds is a wonderful way to help the people we serve. Whether your portfolio performance was above market averages or experienced a decline in value, donating your securities to Pathways to Housing PA is a wise investment. Please contact us at 215-390-1500 x1510 or by email if you are interested in this option.

Make a Planned Gift

You can leave a legacy that will last for generations by designating Pathways to Housing PA in your will or by making a planned gift with multiple benefits. Please click here to learn more.

Donate New Household or Food Items

There are items we use everyday to help meet the needs of the people that we serve – especially when we move them off of the streets and into a permanent home of their own. You can view our current needs below. Items can be shipped to or dropped off at our offices: 5201 Old York Road, Suite 108, Philadelphia, PA 19141. We are sorry, but we do not currently have the capacity to pick up donations.

Donate Furniture

Our Furniture Bank accepts new and used furniture items in good condition and through we encourage drop offs, we can occasionally pick up larger donations. Please click here to learn more about which items are accepted and how to donate.

Purchase from our Amazon Wish List

You can now shop online safely and securely by using our Amazon Wish List and your gift will immediately be sent directly to our office. If you would like a tax receipt for your donation, please use the note section when checking out to list your name and contact information. There are three lists to choose from: Emergency Items, Pantry Items, and Household Items.

Our Promise to You
We will never sell, rent, exchange or share your information. You always have the right to opt-out of any communication with Pathways to Housing PA and your preferences will be honored.
Any Questions?
Valerie Johnson, our Director of Institutional Advancement, would be pleased to answer them. Contact her at 215-390-1500 x1510 or by email.